Shopping Cart
Your Cart is Empty
Thank you for your business!
You should be receiving an order confirmation from Paypal shortly.
Exit Shopping Cart
Looking to Reduce Stress, Get in Great Shape and Learn some Martial Arts Techniques Too?
Learn Martial Arts and take control of your life!
The Amazing New Way to Feel Great
Register Now for Your Martial Arts Lessons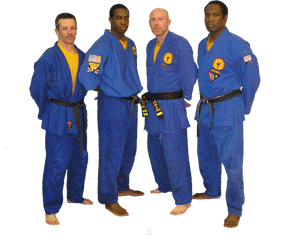 How much is belief and relaxation worth in today's world?
Think about it ... Suppose you were able to have the confidence to get anything you want or go anywhere and always feel great.
Picture this... You walking down the beach in great shape; people at work come up to you and ask why you feel great, and why you always seem to get what you want.
Seems to good to be true?
"Hello my name is Thomas. Working out was something that I always wanted to do, but like so many other distractions I put this on the bottom of my list. Two months ago, my buddy started to have some health problems. His doctor recommended working out. Like most friends he asked me to work out with him. At first we both thought it would be fun and something we could just get in and out. To my surprise, it was the best thing I ever did. Not only did my energy go up, his health problems seemed to be getting better. They way I thought about things changed; I always notice an opportunity in everything. I see things in a positive way, my attitude towards life changed. My friends health issues disappeared with time. We enjoyed it so much, that I'm mad it took me so long."
"When I first came to the Academy of Tae Kwon Do I was a little skeptical about whether or not I belonged here. I saw the advanced students and wondered if I would ever be able to do the things they are doing. I was out of shape and unfocused on my physical fitness. Well after a year and a half I feel totally different! I feel more focused, a great deal calmer, and I am getting in great shape, mind, and body! I feel such a sense of pride in being a student at the Academy of tae Kwon Do. Master Littlejohn has shown my wife and me a fresh new outlook on life through martial arts. He teaches us that martial arts isn't a means to hurt someone but a path to peaceful resolutions through being prepared for anything. I am proud to say I am a student at the Academy of Tae Kwon Do and will be for a very long time. The study of martial isn't a hobby it's a way of life and I am lucky to have Mr. Littlejohn as my teacher."
Gary Camptella
Computer Technician
Well... It isn't if you have the right instruction. You'll look and feel great and have the confidence to do anything.
"First there is God and then family. These are the two most important things in my life. The third is Martial Arts. These three values of life are how I function. I have learned so many life skills through the Martial Arts. It has given me the confidence to do so many things. Before the Martial Arts I had no confidence. I have learned humility and being humble which are needed in ones day-to-day life. I have adapted the mindset, when something appears to be impossible; impossible is just an appearance itself. Negativity is all around us. Martial Arts is a shield for negative situations. Even through the roughest times. My instinct for never ending improvement helps me become a better father, husband, son, and employee in life. Maintenance for a vehicle is needed to maintain a long existence. Just like Martial Arts is for ones body, mind, and spirit."
John J. Libetti
Social Worker
"Martial arts, for me, have been and are still a quest for many things. I hope to better myself in several different dimensions but mainly physically and mentally. Briefly, I'd like to outline what I have personally gained through my pursuit of martial arts.
First of all I'd like to talk about my physical gains. I, of course, have improved in the stereotypical ways. I have gotten in much better physical condition and through hard work I hope to maintain these gains and to improve on them in the future. I have gained the confidence to believe that I can now defend myself in a conflict if necessary but have also learned to make sure that these skills won't be needed. In fact, I'm just more confident in myself physically which leads to most situations being much less stressful. As you can see, these three concepts: physical improvement, confidence, and stress relief are all interrelated.
Most important to me have been my mental gains. I have noticed a great increase in my confidence in dealing with people. This has translated into a much-improved atmosphere for me at my workplace and has reduced my stress load immensely. The greatest ideal I have taken from the martial arts is "Black Belt Attitude". Mr. Littlejohn once told me "You are a blackbelt, you can do anything". This simple idea came into play in a big way for me on a scuba trip. I was diving in about eighty feet of water and got immersed in the air bubbles of a diver below me. As I began to panic and to rise with the bubbles (a very dangerous thing to do) I remembered those words and regained my composure and swam sideways out of the bubbles and out of danger. From that time on I have thought of those words often and have used them to keep my head in situations where I would have previously lost it.
In conclusion I would like to point out the fact that no matter if I was talking of physical or mental gains the same themes kept emerging. Martial arts improve your confidence and your ability to deal with whatever situation that you find yourself in."
Edward Merrin
Surplus Manager
Which One of these Qualities Could You Benefit from?
* 21 Secretes to a Stress Free Life
* How to Develop a Strong Mind, Body, and Spirit
* 10 Ways to have Unstoppable Confidence
* Learn Why Some People Always get what they want
* 3 Self Defense Techniques that could save your Families Life
* The Yes I Can Attitude
* Learn to Defend yourself from the Ground Up
"About nine months ago, after a conversation with Mr. Littlejohn (in which I must have asked too many questions about martial arts) I was invited by Mr. Littlejohn to stop by the Academy to see if I might have an Interest in leaning about the martial arts. After two introductory classes I enrolled in the Academy's basic program. Since joining, many positive things have happened in my life. My self-respect has improved dramatically as well as my respect for other people. I have increased my self-discipline as well as my self-motivation. I have learned to be aware of what is going on around me and also numerous forms of self-defense. I've even lost a few pounds. So far my whole experience has been positive.
After each class I feel refreshed and eager to return. In closing, I would like to thank all of the people associated with the Academy, from the instructors to my fellow classmates. I have enjoyed our time together."
Michael DiDomenico
Certified Public Account
So what's the catch? Why am I practically giving away all these Secrets?
Well, it's really quite simple. I have been doing Martial Arts for over 35 years and I am in great shape. Many of people are always looking for ways to get rid of stress because of health problems and many personal reason. This is an opportunity to become stress free, confident, and change your lifestyle for the better. The things we put in our body now will affect how we are many years to come. And with the way society is now if we don't do anything for ourselves then no one will. That's why I believe that we can make a difference One Black Belt at A Time.
Now I know what you're thinking: " How do I know if Martial Arts is right for me?" Well realize that Martial Arts can easily improve your confidence throughout your life. In fact Martial Arts will teach you how to overcome any obstacle in life. I'll make it easy for you to find out...
I'm giving you TWO LESSONS FOR FREE (with no strings attached). See for yourself if, in fact, I can give you the powerful benefits promised.
Imagine how you'll feel during:
Class One – You works semi-privately, with one of our best instructors. You learn a few self-defense techniques and feel great!
* The First 3 Martial Arts Techniques
* The Black Belt Promise and
* The Importance of Respect
You will enjoy hitting our bags in a Stress Free Environment, while sweating and feeling great. Then learn the 1st principle of the Student Pledge: "I must develop myself in a positive manner, and avoid anything that would reduce my mental growth or physical health."
Class Two – The semi-private instruction continues; you instantly seem more confident and secure after learning:
* How to be Safe Everywhere and
* The 3 Self-Defense Techniques that could Save
your Family
You will feel Great knowing that you can Protect yourself Anywhere.
You Really Can't Pass up this Offer!
It's easy to get started.
All you have to do is call (740)-266-6568 or register today for your 1st Martial Arts Lesson don't forget to tell them about this offer. It couldn't be any easier or faster. The fact is...
You'll see a confident, and stress free man just by coming to the Academy of Tae Kwon Do Karate School you've taken the first step. Why not give yourself the opportunity of a lifetime?
/